Realtors and Homeowners Should Worry About SB926/HB773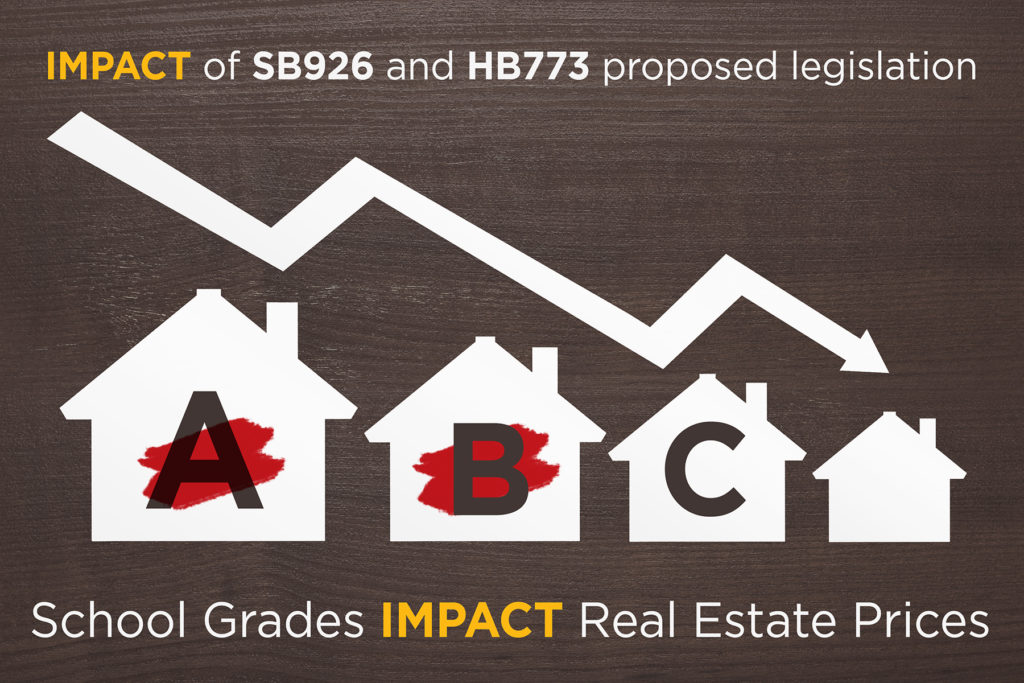 SB926 and HB773, deemed the "Fewer Better Tests" bills by Jeb Bush's Foundation for Florida's Future, contain language that will redefine the scores required to pass the Florida Standards Assessment (FSA), raising the bar to well beyond "on grade level performance." The Foundation calls this "an honest discussion", we call it baloney.
In this blog, we will have an honest discussion on how this proposed proficiency language would result in more students, teachers and schools labelled as failing, resulting in plummeting school grades which should be expected to negatively impact property values. Homeowners and realtors should be worried.
We have written about our concerns with the proficiency language in these bills (read here and here). The Staff Analysis of HB773, also, addresses the concerns with aligning state assessments to NAEP proficiency, pointing out that opponents of the alignment have argued that, when it comes to NAEP, a national assessments often referred to as "The Nation's Report Card", ""Proficient" is aspirational and unreasonably high to be considered a legitimate grade-level expectation." The Staff Analysis points out the effects of the proficiency change would cause FSA passing rates to plummet, effectively requiring the equivalent of a Level 4 score for passing.
"According to the Florida Department of Education, if the Level 3 cut point is aligned to the NAEP "Proficient" level, the percentage of students passing assessments required for graduation would decrease from 51 percent to 36 percent."
If the proficiency language in SB926/HB773 passes, only 36% of Florida's students would pass the state assessments required for high school graduation.
"The Proficiency debate: At a glance" makes it clear that the NAEP proficiency and "on-grade level performance" are NOT synonymous: "NAEP acknowledges that "the average performance score on NAEP in most subjects falls within the Basic achievement level" (Loomis and Bourques, 2001)." The Florida Board of Education (FLBOE) understood this, in January 2016, when it chose to align Level 4 FSA scores with NAEP proficiency. The "Fewer Better Tests" bills are a clear attempt to legislatively override the FLBOE's decision.
To be clear, if passing scores on the FSA are aligned with NAEP proficiency, then Florida's students will need to score the equivalent of today's Level 4 to achieve a Level 3, or passing score, in the future. Students will be expected to perform above grade level just to pass the state assessment with a level 3. Since school grades are calculated based on the number of students scoring Level 3 or above, we should expect fewer students will pass, fewer students will graduate, and the resultant school and district grades will fall.
For example, Monroe County was an "A" rated District during the 2014/15 baseline year for the FSA. In 2015/16, the District earned a "B" rating, with 57% of students scoring a level 3 or above (passing) in English Language Arts, and 61% scoring a level 3 or above (passing) in Math. However, if the SB926/HB773 proficiency language had been in place, only 29% of students would have passed (scoring a Level 4 or higher) in either ELA or Math, and the district would have been labeled a "C" district. Similar calculations show that, with the new "proficiency levels", Key Largo School would become a "C" rated school and Plantation Key School, an "A" rated school for more than a decade, will be labeled a "B" school. Monroe County families know these ratings would not reflect the current quality of education in our public schools, but they could affect our property values.
The proficiency language in Sb926/HB773, by raising the passing scores on the FSA to a level 4, will result in more student, teacher and school failures. Realtors and homeowners should expect that ALL school grades will plummet. What will happen to home values if all the school and district grades decline?
We must insist that the proficiency language be removed from these bills.
Please call the sponsors of the bills (Senator Flores for SB 926 and Rep Sprowls and Diaz for HB773) and ask them to remove the proficiency language from their bills.
Senator Flores: Tallahassee (850) 487-5039, Miami (305) 222-4117
Rep. Chris Sprowls: Tallahassee (850) 717-5065, Clearwater (727) 793-2810
Rep. Manny Diaz, Jr.: Tallahassee (850) 717-5103, Hialeah Gardens (305) 364-3072
Tell them you cannot support their bills if the proficiency language is not removed. With the proficiency language, this bill will be devastating to our public schools and property values.
Frankly, even without the proficiency language, there is little to recommend in these do nothing bills, especially when there is a much better option…
SB964,  sponsored by a bipartisan group of Senators, led by Senators Montford and Lee, is a much better bill. SB964 eliminates the 9th grade FSA and all but two of the current state End of Course exams, allows districts to use the SAT or ACT in place of FSA testing, eliminates VAM (returning teacher evaluation decisions to the local level) and allows paper and pencil testing for students, providing welcome relief from the current test and punish system. For parents, taxpayers, and public school advocates, SB964 is the one to support.