Why Mandate the Construction of Unsafe Substandard Schools?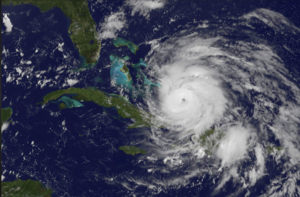 In 2016, State Representative Erik Fresen (who was employed by Civica, an architectural firm that builds charter schools, and whose brother-in-law runs Academica, the state's largest, for-profit, charter school management company) spearheaded a bill which clamped down on school districts' construction costs, limiting how much could be spent on school construction projects and extending that spending cap to include money coming from local sources.
This cap on construction costs is especially problematic for Monroe County Schools, where we pay for all new school construction via our local half cent sales tax. We have the highest hurricane standards in the state and our construction costs greatly exceed those in other parts of the state. At a recent school board meeting, it was reported that concrete in Key West costs four times that in the mainland.
Last session, our local Representative, Holly Raschein, was able to include a provision into HB7069, that exempted school construction projects under contract before July 1, 2017. This is good news for current construction projects at Plantation Key School and Gerald Adams but is, clearly, only a temporary fix.

For the past two years, the removal of this spending cap has been one of Monroe County School District's top legislative priorities. Superintendent Porter has repeatedly pointed out that this spending restriction essentially mandates that Monroe County build substandard schools for its students.
Perhaps the building of substandard schools is exactly what the leadership in Tallahassee wants…
House Speaker, Richard Corcoran, in response to recent legislation requiring local districts to share capital millage with district charter schools, has claimed that local districts are wasting tax dollars, building "Taj Mahals." Corcoran, whose wife owns a charter school and championed the pro-charter HB7069 last session, feels districts should focus on "building beautiful minds" rather than "building beautiful schools." In such an environment, will House leadership be receptive to lifting spending caps for local districts? It seems unlikely.
Last month, during an interview with reporter Jeff Solochek, Rep. Manny Diaz, Jr, Chair of the House PreK-12 Appropriations Subcommittee and employed by Academica (the for-profit charter company), suggested one of this session's legislative priorities will be to lower the construction standards on future public schools. Current law requires public schools to be built to hurricane shelter code standards. Charter schools are not required to be built to that code (called SREF, State Requirements for Educational Facilities) because they are not used for shelters.
Lifting the SREF standards, would allow districts to save money on new construction… by building less safe structures for our children and, essentially eliminating the construction of new schools which could serve as hurricane shelters in the future. Rep Diaz said "I'm all for that" and "I believe we have enough shelters in our state, across the districts…"
For-profit charter school advocates, like Corcoran, Diaz and Fresen may have ulterior motives behind this move to underfund new public school construction. Charter schools in strip malls may find it difficult to compete with a big beautiful new school in which a community has invested. Parents may prefer to send their child to a safer, perhaps tornado resistant school. These advocates for privatization may think spending ANY money on new public school construction is wasteful, since their goal appears to be the replacement of public education with a more profitable model.
Literally while writing this, the National Hurricane Center updated its forecast for Irma, which is now a category 4 hurricane, and Governor Scott has declared a State of Emergency. We now sit firmly in its cone.
I believe Monroe County should be allowed to spend its tax dollars to build whatever kind of schools our community wants. Why shouldn't our children be educated in beautiful, safe buildings? Beyond that, I believe it is extremely short sighted to lower construction standards on our public schools. Monroe County NEEDS hurricane shelters. Florida needs hurricane shelters. What better place than at our public schools?
Be safe everyone.
---
9/5/17 Noon Update: Just got word that Irma has been upgraded to a Category 5, with maximum sustained speeds approaching 185mph. Irma is no joke. Monroe County Public Schools will be cancelled tomorrow (Sept. 6th) "until further notice." We will be evacuating. We are preparing for the worst and hoping for the best.