In Times of Crisis, Communities Rely on Their Schools and Vice Versa
In times of crisis, schools need their communities and communities need their schools. They are more than just a place for academics. When disaster strikes, they can keep us safe, shelter us from the storm, provide us support and restore our sense of community. They give us hope.
This is a story of 2 schools, 2 amazing principals and one devastating storm, Irma.
I live in the Florida Keys. I evacuated with 2 kids, 2 canaries and 2 tortoises and, like many of my neighbors, I ping ponged across the state, searching for gas and a safe place to ride out the storm. We will be forever grateful for the generosity of the friends who took us in.
My home is in the Upper Keys. My house survived, my family is safe, my birds are singing again. Many of my neighbors were not so lucky. In Monroe County, more than 60 teachers have reportedly been displaced from their homes. I believe that is 10% of the teachers in my county. Many more have suffered property losses. It will take a while to heal.
Monroe County Schools are returning to class on a staggered schedule. My children went back to school on Monday, 9/25, along with the other children in the Upper Keys. Marathon and most Key West schools opened on Wednesday and the remainder of the schools, from the hardest hit areas, are scheduled to open on Monday, 10/2.
Today (9/27), I joined Lizz Smoak and Nancy Hull, visiting two of our schools in the hardest hit areas. Liz and Nancy are passionate about education and are particularly interested in supporting our teachers during this stressful time. They have created Keys Teacher Relief:Hurricane Irma a disaster relief fund to support the 600+ teachers affected by Irma throughout the Florida Keys. You can learn how to support their campaign here.
The drive along the Overseas Highway is depressing these days. Piles of sea weed and yard debris, discarded appliances and household items fill the shoulders and medians of the roads. There are still plenty of downed trees and power lines along the route and sunken boats off shore. Everywhere workers are hauling away debris yet the piles don't appear to be decreasing in size. It doesn't take long to feel numb.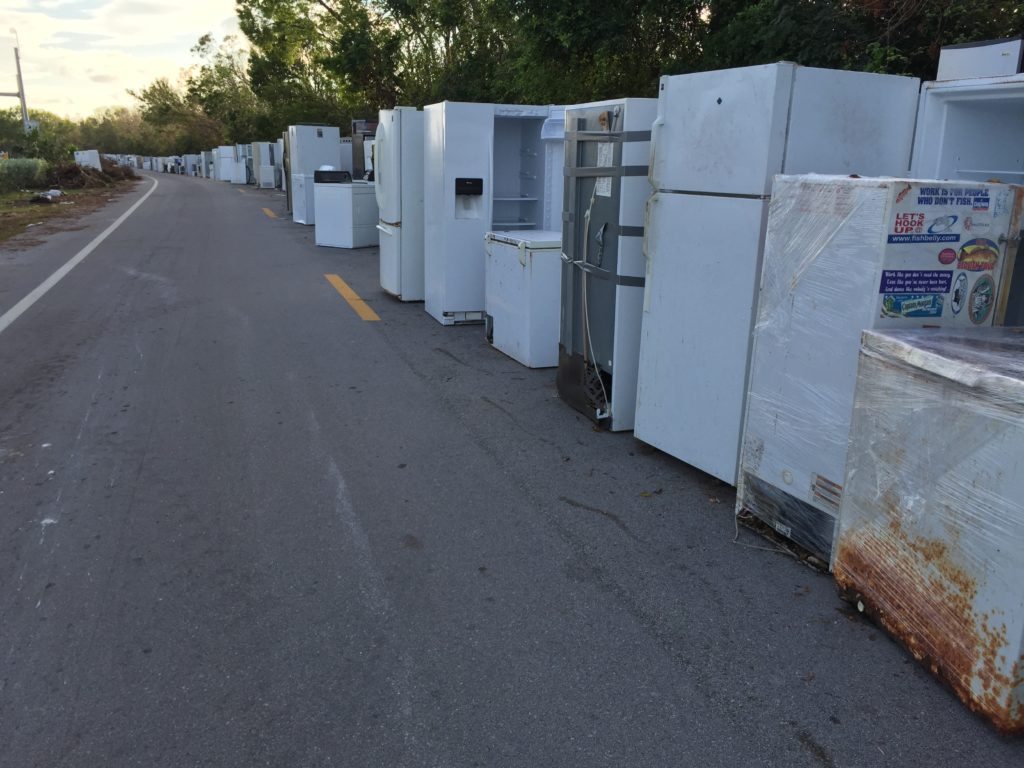 Our first stop was "Tent City", a distribution center for relief supplies set up in Big Pine Key by Navillus, a New York based contracting firm who has been proving relief efforts after responding to Hurricane Sandy. This site will close on Saturday and they are looking for local organizations to accept their supplies. Any supplies left over will be sent to Puerto Rico. Generous in-kind donations have arrived in the Keys and storage and distribution of these donations been difficult. (We appreciate it all but it appears we have enough bottled water at this point…)
Across the street from the distribution center was Big Pine Academy, a 100 student charter school that initially grew from a co-op pre-school. It is the only public school on Big Pine Key, 11 miles from the nearest traditional public school.  A giant pile of soggy insulation, rusted desks and moldy school supplies is growing in front of the school as they prepare for students' return in just 5 days. The school was hit hard. The bottom floor was destroyed and an army of volunteers has helped to strip the interiors to the studs to allow for mold remediation and restoration.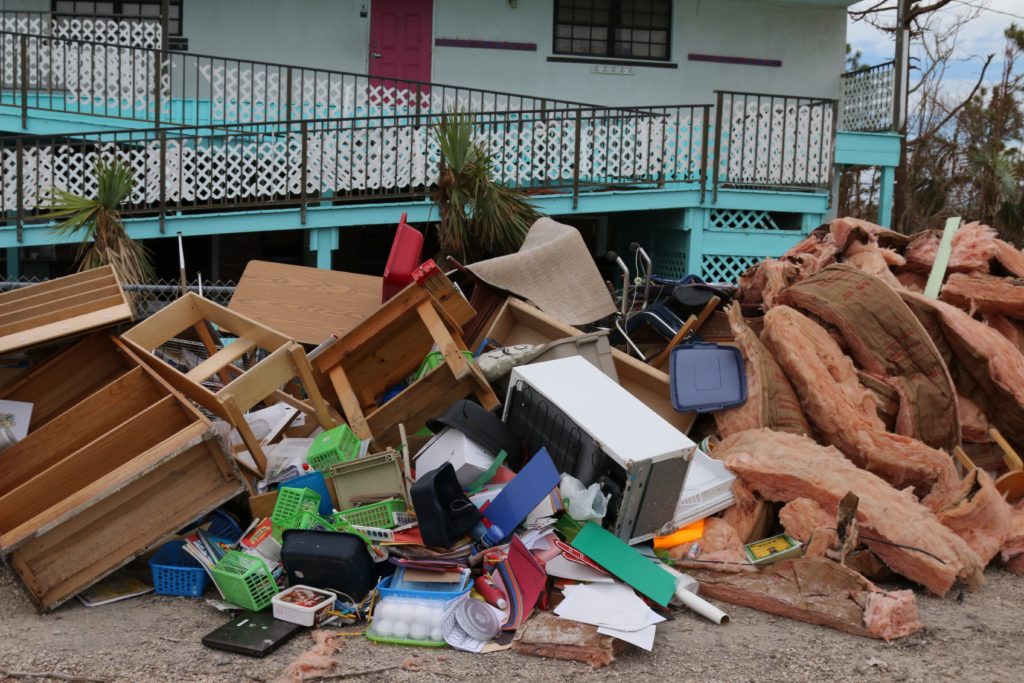 Of their 13 original classrooms, only the four upstairs classrooms (which look untouched) and the cafeteria remain. Most of the 20 staff members have suffered personal losses, with two teachers completely displaced from their homes. Though offers were made to move the students to Sugarloaf Elementary, 11 miles south, Principal Cathy Hoffman is determined to have her school ready on Monday, feeling the reopening of the school will provide much needed hope to this devastated community. The school is prepared to provide free breakfast and lunch to all students and to help them cope with the storm and its aftermath. While we spoke, staff, parents and grandparents were working to restore this little school.  It was clear that this school served a purpose to this community beyond academics. Still, the rebuilding will be expensive and take time.
I was delighted to meet Big Pine Academy Art Teacher Sara Butler. Her classroom was destroyed but her art supplies had been safely packed away and she is looking forward to seeing her students again. She took time out from her clean up efforts to show me her destroyed classroom and the mural she was in the process of completing prior to the storm.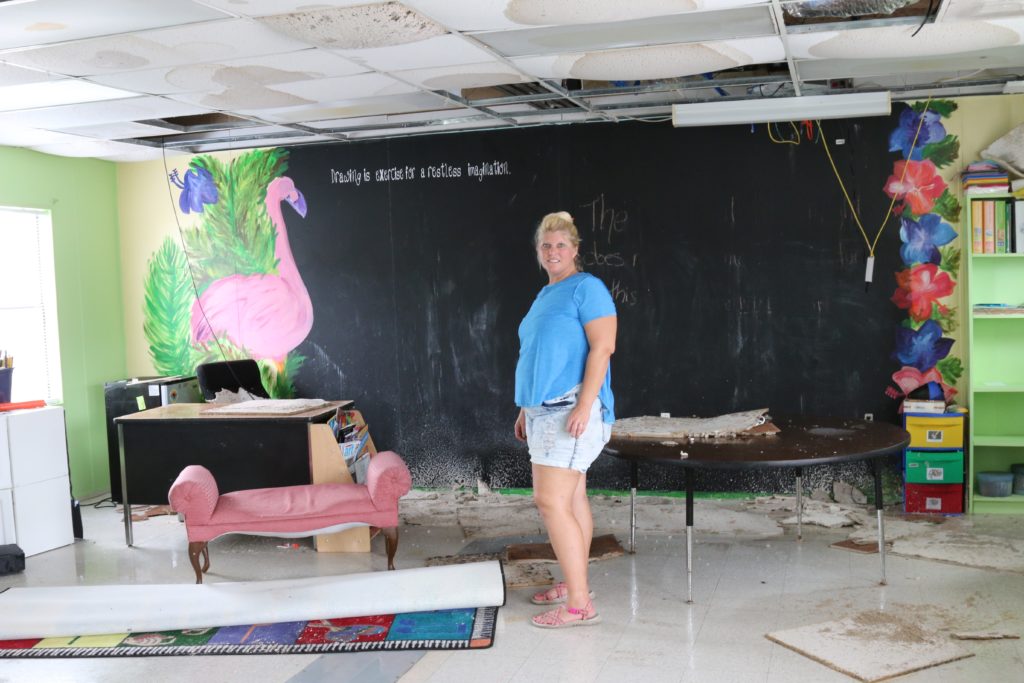 The art room exterior: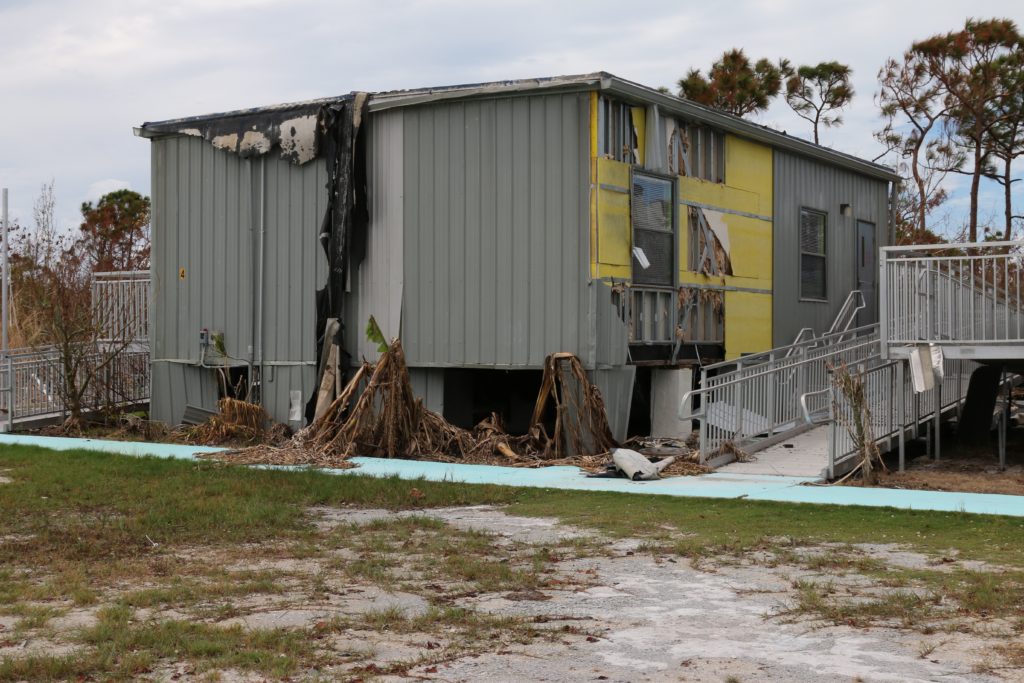 Principal Hoffman has established the Big Pine Academy Irma Relief Fund at First State Bank, a fund to assist in the necessary rebuilding and resupplying of this school. Half the school's desks and chairs sat in salt water and will need to be replaced; the rust is already apparent. The classroom libraries of the downstairs K-3 classrooms were destroyed. If you want to help in the restoration efforts of Big Pine Academy and help Principal Hoffman begin to heal her community, you can donate at any First State Bank or send donations directly to Big Pine Academy Irma Relief Fund, c/o Cathy Hoffman, Big Pine Academy, 30220 Overseas Highway, Big Pine Key, Florida 33043.
We left Big Pine Key and headed south to Sugarloaf School, a preK-8 traditional public school. There we met Principal Harry Russell.  Sugarloaf School, built to the highest hurricane standards in 1998 (its completion was, coincidentally, delayed when it suffered damage during Hurricane Georges), suffered no significant structural damage. A volunteer crew had cleared the multitude of downed trees and miscellaneous storm debris just hours before our arrival.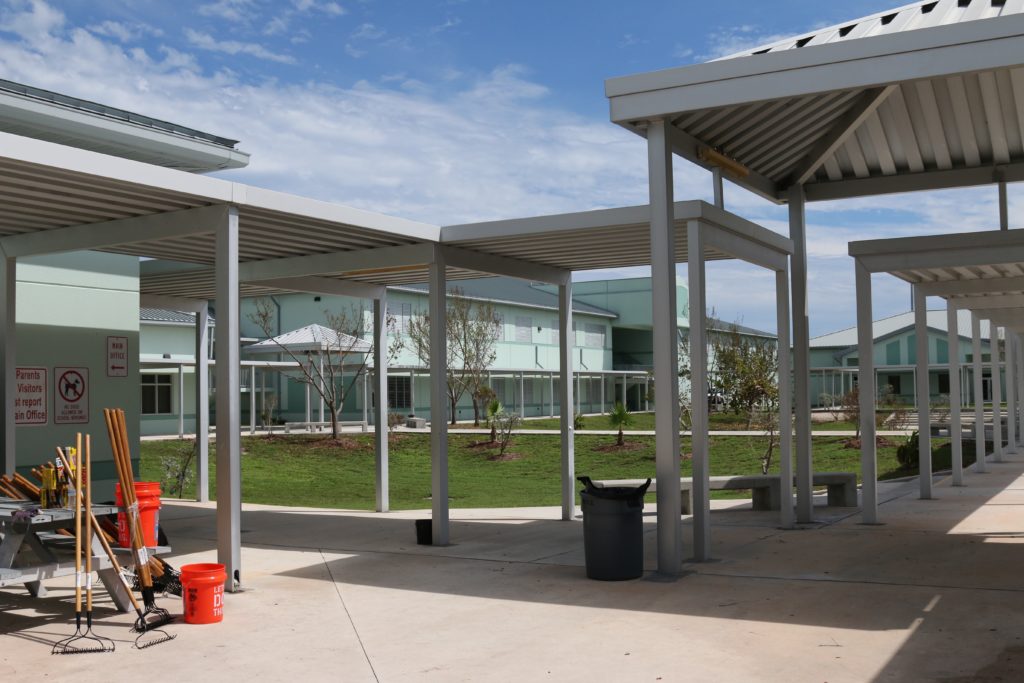 Sugarloaf School served as a staging area for the rescue and recovery efforts in the hardest hit area of the Keys. The Red Cross and military set up tents and trailers on the school grounds. The school's cafeteria served as a Red Cross-managed shelter, which was in the process of closing when we visited. On Wednesday (9/27/17), twenty nine families were still residing there.
Sugarloaf School had a pre storm population of 630 students. Twelve of its staff members have completely lost their homes. All of the private day care facilities in the area have suffered major damage, leaving the staff with limited options for their young children. When staff reports on the 28th, they will begin contacting their students and determining the needs of their community. Fulfilling these needs will be a high priority for Sugarloaf School moving forward.
Sugarloaf School has already received generous donations from around the country. Principal Russell has converted the multipurpose room into a distribution center which he intends to keep open for as long as necessary. Staffed by his PTO and SAC parents, this distribution center will give community members access to free food, clothing and personal supplies as they rebuild their lives. Supplies from the Sugarloaf center will be made available to aid the families at Big Pine Academy, as well. You can contribute to Mr. Russell's efforts at Sugarloaf by calling the school at 305-745-3282 x50303 or Maria Allen at x50300.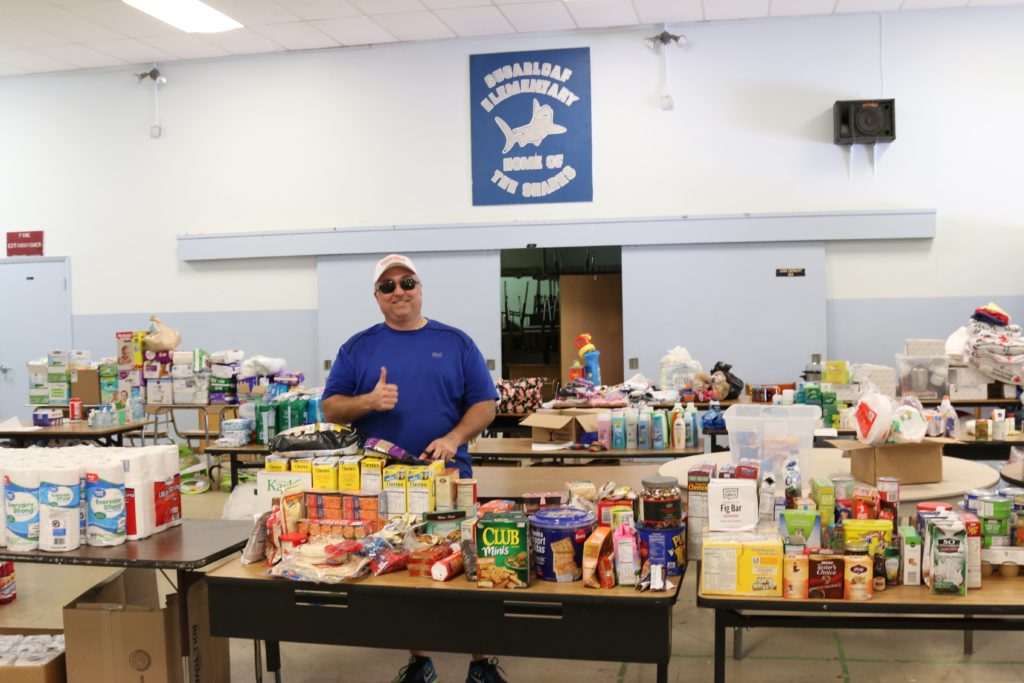 Principal Russell feels confident that his community will come back together and he sees his school as central to that effort. He plans to make his school a place where students, families and the entire community can heal. He has offered space to the displaced private day care facilities so that they can continue to serve the community. As the needs of the Sugarloaf students and families are determined, programs will be created to respond directly to them.
The needs will be great. Principal Russell encouraged us to get off the highway and visit the neighborhoods hardest hit by the storms; to see where his students live. He described the experience as akin to visiting the Grand Canyon where, despite having seen photos, visiting in person is almost impossible to describe. He was right. The photos in the press and on social media do not come close to describing the devastation in these neighborhoods. Here is a glimpse of that reality: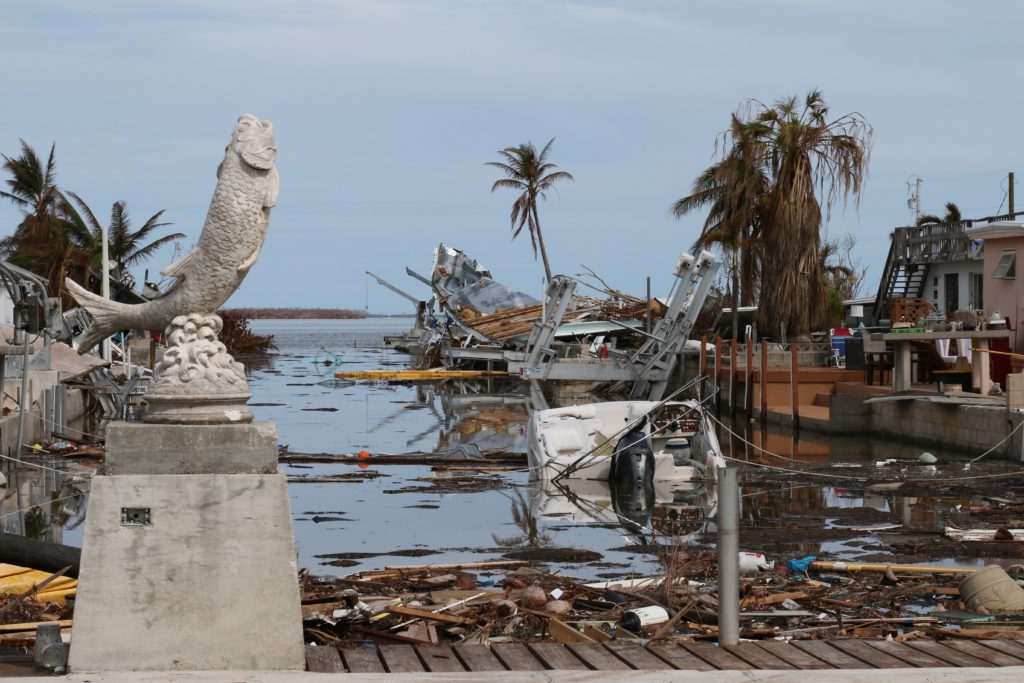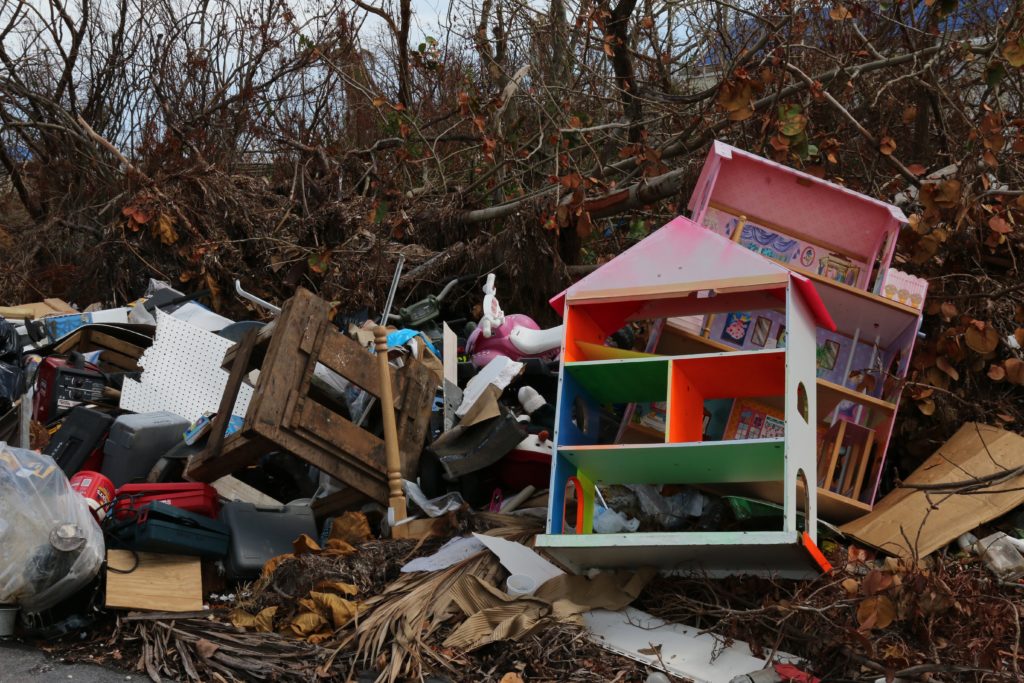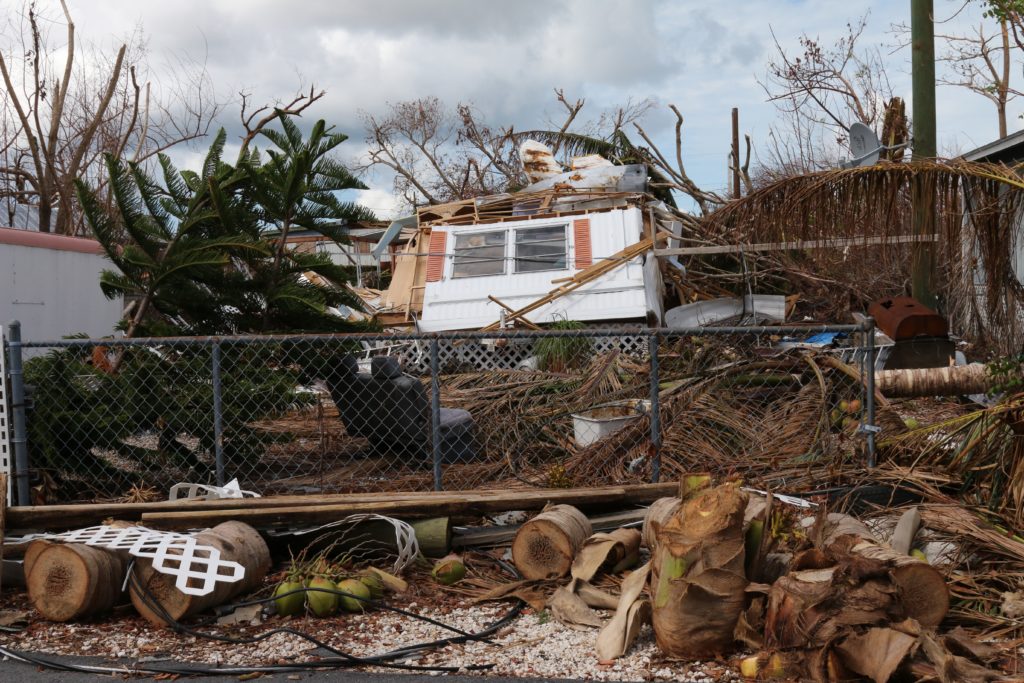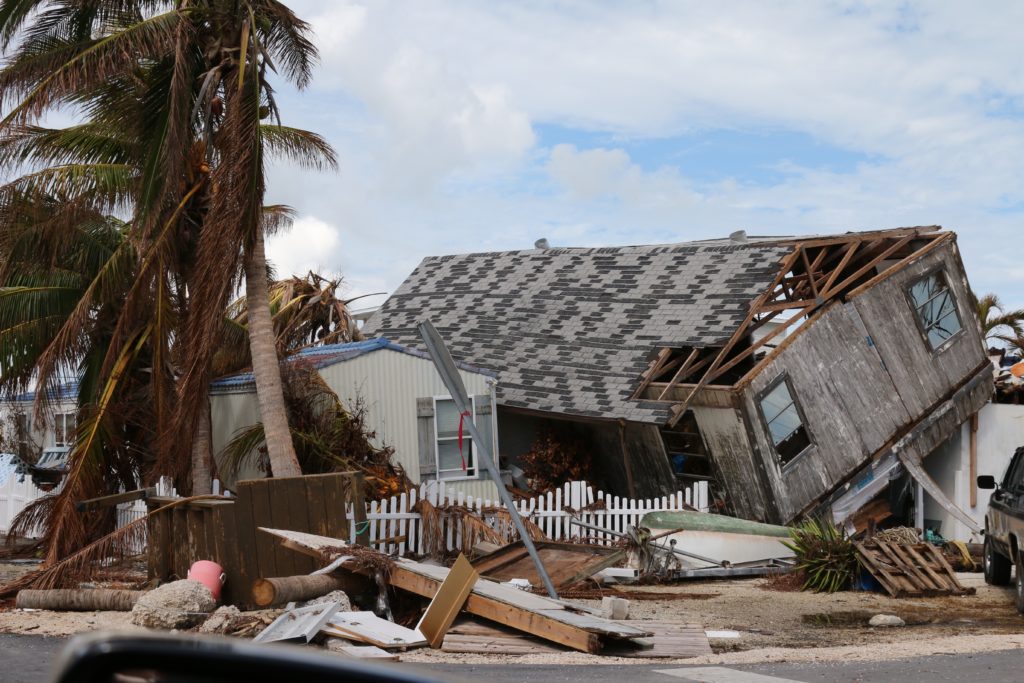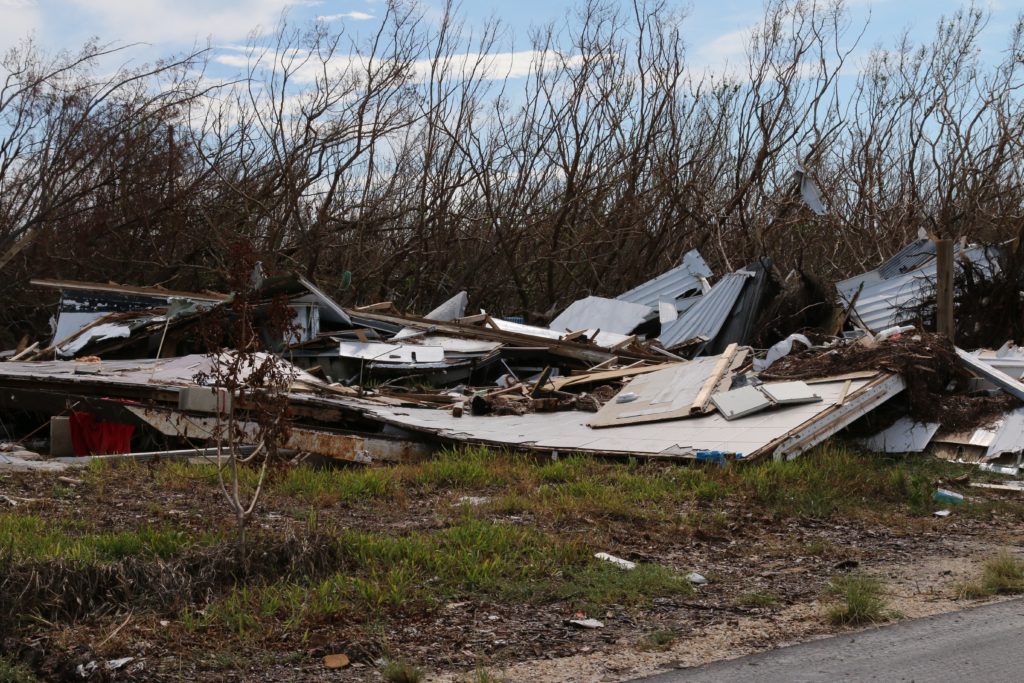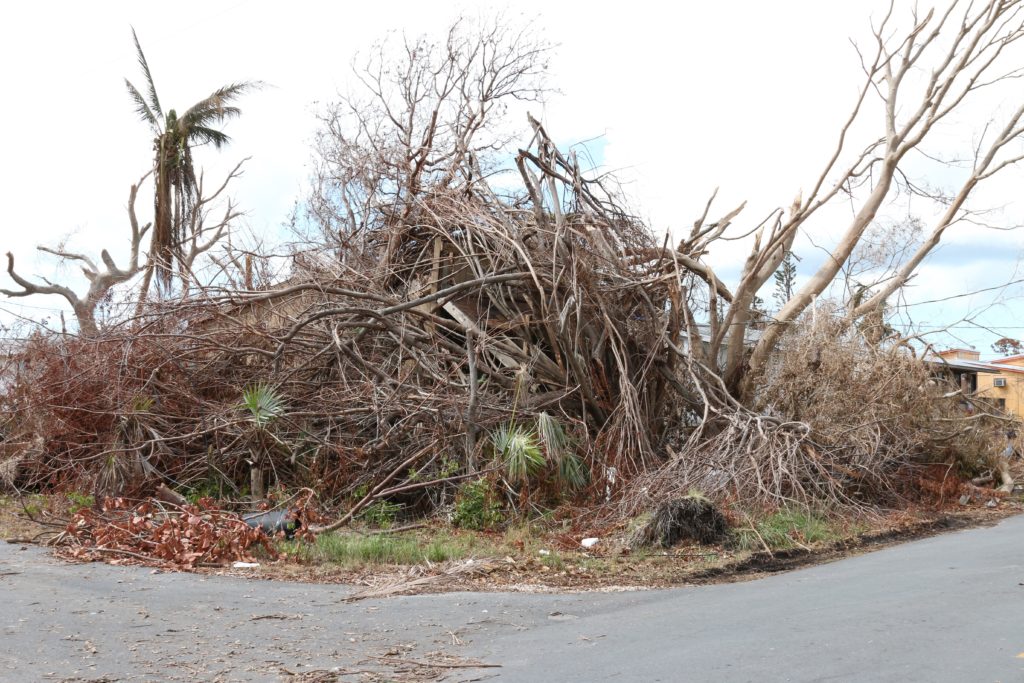 Yes, sadly, there IS a house under those trees…
The children and the families of these neighborhoods need time to heal. Their schools and teachers will be working overtime to help in that process.
In times of crisis, schools need their communities and communities need their schools. They are more than just a place for academics. When disaster strikes, they can keep us safe, shelter us from the storm, provide us support and restore our sense of community.
They give us hope.
We will be posting updates periodically. Please help in the recovery, if you can.