Happy Holidays from Accountabaloney!
This is a holiday message from your friends at Accountabaloney. We hope you will take the time over the next few weeks to rest up, reconnect with family and friends, read a good book, eat some great food, get outside and play. Make it a holiday to remember and don't forget to count your blessings.
If you have some free time, consider reading the latest from Polk County School Board member, Billy Townsend. He outlines his agenda for defeating the fraudulent school grade system, or what we call accountabaloney. Please give his blog a read.
Mr. Townsend makes the following claim:
"Your state government — from Jeb Bush to Rick Scott, Richard Corcoran, and Kelli Stargel — has imposed a punishment-based, fraudulent school-grade, teacher-shortage model of Florida education that is indifferent to human outcomes for most kids. All that has mattered — and still matters — to Tallahassee is fraudulent school grades."
Today we received this holiday message from the Superintendent of Manatee County. It appears to corroborate Mr. Townsend's message that school grades reign supreme:

To educators and administrators everywhere: Please STOP legitimizing the school grade system. Certainly don't mention school grades in your holiday message!
With all apologies to the great Dr. Seuss: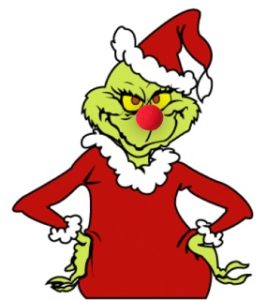 "And he puzzled and puzzled 'till his puzzler was sore. Then the Grinch thought of something he hadn't before. What if quality education, he thought, can't be measured by test scores. What if quality education for our kids, perhaps, means a little bit more."
Enjoy your children this holiday season! Let them know they are more than a score.